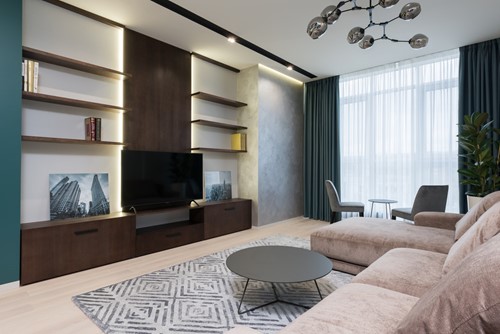 Many homeowners prioritize finding the best televisions for their home, but finding the best TV stands is just as important. It might seem like a simple piece of furniture, but the right TV stand can make a huge impact on the aesthetics, storage and overall functionality of your media room.
To help you figure out the best TV stand for your home entertainment setup, here is a basic guide to the most popular designs you'll find:
Closed shelf TV stand
A TV stand with closed shelving offers plenty of storage space while keeping components and other shelf contents hidden away. This provides a neat aesthetic and also keeps your media devices safe from small children, pets and dust buildup.
A downside of closed shelf TV stands is that they won't always work with devices requiring infrared remote control. If you block the receiving end behind closed storage doors, your remote won't function in your living space.
A closed shelf TV stand can also cause cord management issues unless it comes equipped with holes to accommodate all your devices.
Open shelf TV stand
A simple option for a TV stand is an open shelving entertainment center, which provides plenty of versatility and functionality for storage and access. Without any doors blocking the way, open shelves won't cause signal interruptions.
Also, open shelves make it easier to move and change out components if needed. They also allow airflow to help keep your video players and gaming consoles from overheating.
While there are advantages to having your components and media devices on open shelves, a major disadvantage is dust. You may find yourself spending more time dusting your media room than before to keep everything clean and functioning properly.
Corner TV stand
If you're short on square footage, a corner TV stand might be the perfect option for your living space. Corner TV stands are often triangular, nestling comfortably into a corner without any wasted space. You can take full advantage of the storage space within while placing the TV diagonally.
These won't work in every room layout, however, and might not be as flexible a furniture item in the long term. While it can be a good TV stand option for small spaces, you'll have fewer placement options if you ever move or rearrange your furniture.
Ample storage space, cable management features and decor styles are all factors to consider when choosing a TV stand for your media room. However, what makes the best TV stands truly the "best" is how well they fit into your home.